How to start a business in Australia
A full comprehensive guide on starting a business in Australia. I know how frustrating and hard it can be as a new business owner as i was one myself trying to navigate all the unknown and seemingly endless tasks one is to complete just to be in business! I continue to find myself in new situations of uncertainty as my business grows and i need to comply with business laws,  accounting and competitive trends. I started my own business during COVID-19 and could not find a single source of truth on starting an Australian business. I spoke to accountants, lawyers and other business owners, no one could give me a complete set of information. I wanted a succinct how to that took me step by step through everything i needed!
I have done the hard yards for you and put together what i wish i had when i started my journey!
Everything in this ebook is categories as What is is, Why you need it, How to do it and What it will cost you.
I have also included affiliate links to recommended providers such as namecheap.com who refer anyone looking for a solid, reasonably priced domain. 
There are even some marketing and economics tips for new business owners in the later chapters und the heading Marketing Abridged, Economics 101 and Branding Starter. 
The chapters in How to start a business in Australia are as follows: 
Foundation 
– Australian Business Number (ABN)
–Business Trading Name 
–Domain Name
–GSUITE Account 
Essentials 

-Website 
–Social Media
–Digital Content
–Business Admin
Grow
–Google Ads
–Facebook & Instagram Ads
–Search Engine Optimisation SEO
–Content Marketing
Finesse
–Economics & Marketing
–Branding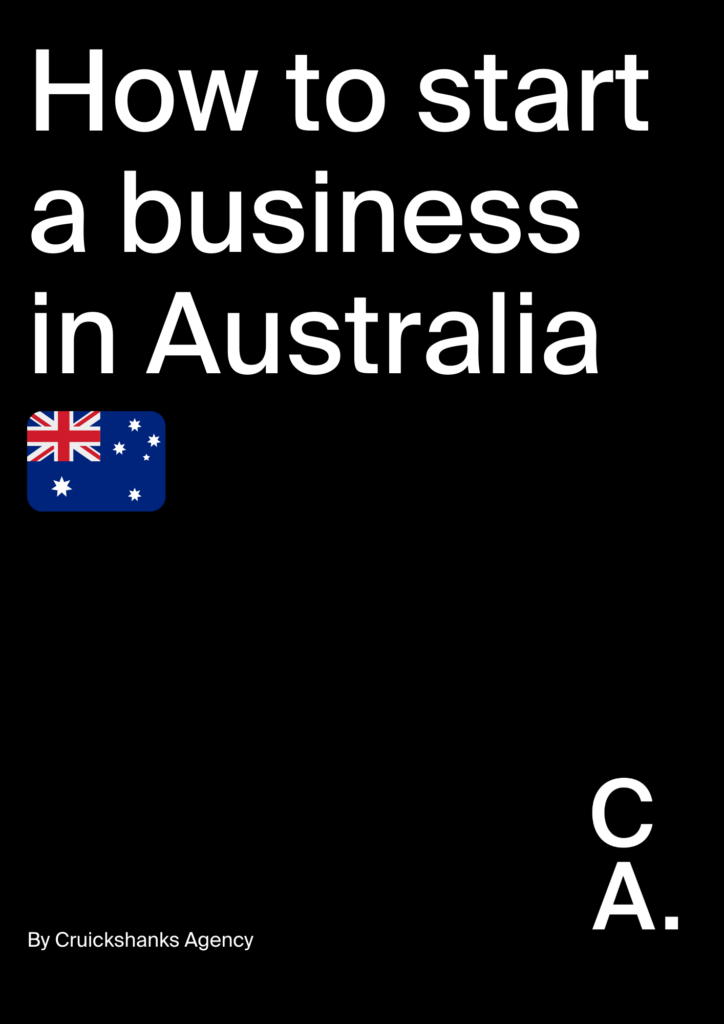 We can help you start a business in Australia!
if you have any questions about the ebook or need any web or marketing related services or advice we are ready when you are to get you moving in the right direction! Reach out to us via email! brett@cruickshanks.agency
Disclaimer for the information on how to start a business in Australia
This book provides information, not legal advice. Use it at your own risk. 
Information is not the same as legal advice. Legal advice is the formal application of information to an individual's specific circumstances. 
Although we endeavour to make our information accurate and useful, you should consult a lawyer before applying it to your particular situation. 
We do not take responsibility for financial disaster, or any
other misfortune that follows starting a business — either directly or indirectly — from applying the information in this book. 
We are not lawyers. Get a lawyer. 
The links provided in this document may be affiliate links that we do make a profit from at no additional cost to you e.g. https://namecheap.pxf.io/R7joy – we are official affiliate partners with these organisations and personally use their services for our own business.