Blogs aim to answer top questions from potential customers. The best answers feature on the first page of Google. The best answers are determined by the criteria this checklist aims to address.

How To Start Writing Your Blogs For SEO:
Pick a popular/low competition question you would like to answer. e.g. How to renovate your bathroom on a budget or The top 10 courses to get high-paid jobs. (Confirm search volume, low competition, and exact phrase with SEO tools like Ahrefs, SEM rush, etc.)
Write an 800+ word blog post that is longer in word count, richer in information and imagery than the top 3 results for the question you would like to answer.

DO NOT WRITE ABOUT YOUR INDUSTRY ANSWER THE TOP QUESTIONS YOUR CUSTOMERS NEED ANSWERED.
Your topic must come from a need to answer a customers question. Blogs are answers to questions. They deliver value to the reader. 
Think of a recurring question you receive from customers. It could be to do with the price of a service, the features of a product, a product comparison, news in the industry. E.g. How much does a pool cost?, Are fibreglass or concrete pools better? How long does it take to build a pool? 
Now you have your topic. Let's test the waters. Type your topic into google.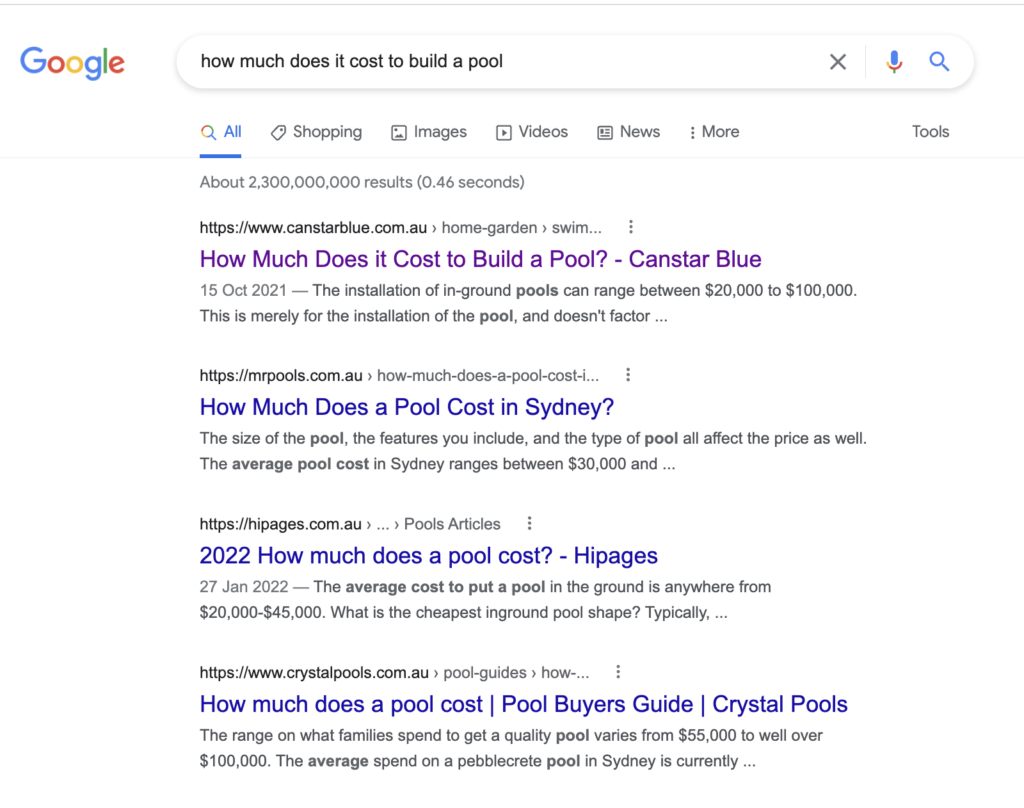 We can see for our chosen topic that google is listing web pages / blogs in the results. This is ideal. If google were showing videos for instance we would have to create videos in order to rank in the top 3.
Use a keyword research tool such as Ahrefs to find the monthly search volumes and how hard it is to rank in the top 3 for your chosen topic. 

Seeing an 8/100 difficulty for ranking for this keyword is a great sign. We can see that 700 people are searching for this in Australia every month with 525 of these clicking a search result. This keyword data suggests this topic could be a winner. 
Check-in on the competition
We now need a word count for the top 3 results. This will act as our benchmark. 
The top result for our chosen topic has a blog post 1900 words long. 
This is our bench mark. We must write a blog post longer than 1900 words. Aim for 2500 in this case. 
We can see that the top result for our topic is comprehensive. We must match the headings of the top competitor. We can see that they include Where To Start, Pool Types, Different Materials, Installations, Fencing, Ongoing Costs, etc. 
You must include these in your blog post. 
Does the top result contain images, video, comparison tools etc.? 
Yours must also in order to compete. 
Technical Checklist For SEO Blogs:
H1 must be the keyword

Keyword included in the title tag

Keyword included in the meta description

H2 must include the keyword

FAQs (from people also ask section) 35-45 word answers

URL / Permalink must contain the keyword

Alt text of any images must contain the keyword

Content must be 1000 words or 200 more than the top competitor's result

0% duplicate (excluding headers and footers)

Include a clear Call To Action (book meeting, buy, add to cart, subscribe etc.)

Include internal links to relevant sources of information on your own site.

Include external links to relevant third-party sites.